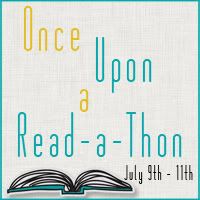 I need major help. I'm freaking 20 books behind on my Goodreads challenge. I read only 5 books (one was an audiobook!) in June when my average is 9 books. So for July and since it's freaking SUMMER shouldn't I be reading more? (actually no. For school, I wake up at 6 in the morning and as soon as I get done with getting ready I'm reading from that time until 2:15 when the bell rings. Test? to busy reading. Notes? too busy reading. Lunch? too busy reading. Physics? I rather eat my own eyes. Fight? too busy reading. Let's go smoke in the parking lot? count me in.) But during the summer I'm sleeping in and such. I'm not being FORCED to do something I hate (school) so it takes more motivation for me to read (reading used to be a procrastination from school. Now I'm procrastinating reading.)
I told you I needed help!
I also know I wont read A LOT this read-a-thon because I will be going to a beach house on the 10th and you know, BEACH! And since I will be staying there for 8 days, I will be helping with getting settled in on the first day. But oh well, BEACH!! This is what I look forward to every single year!! It's the only time I get to tan and swim.
Here I come!!!
Happy reading!