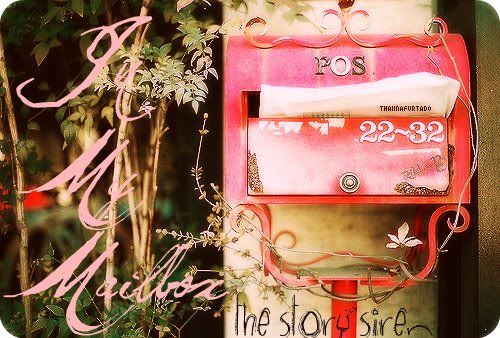 Hello fellow readers! It's time for IMM, since it's Sunday! Yay! In My Mailbox is hosted by the wonderful Kristi at
TheStorySiren
, if you don't know who she is, you've been living under a rock.. but this is what Racquel and I got this week! What did you get?
From Netgalley:
Jennifer's Mailbox:
Without Tess by Marcella Pixley
Thanks Macmillan Children's Publishing and Netgalley!
om Library:
From Libary:
Abandon by Meg Cabot
Sweetly by Jackson Pearce
Born At Midnight by C.C. Hunter
Born at Midnight by C.C. Hunter
Racquel's mailbox:
So this is like two week's worth of mailbox-ness but who cares right? XD
I got (in order)
Spirit Bound by Richelle Mead
|
Thirteen Reasons Why by Jay Asher
|
If I Stay by Gayle Forman
|
Daughter of Smoke and Bone by Laini Taylor
|
Last Sacrifice by Richelle Mead
|
Lola and the Boy Next Door by Stephanie Perkins
|
Thanks to Chrissy @
yabookoftheday
for Last Sacrifice♥
Kindle:
and lastly, the entire Hunger Games trilogy for less the $5 bucks. Now that is what a call a great buy!