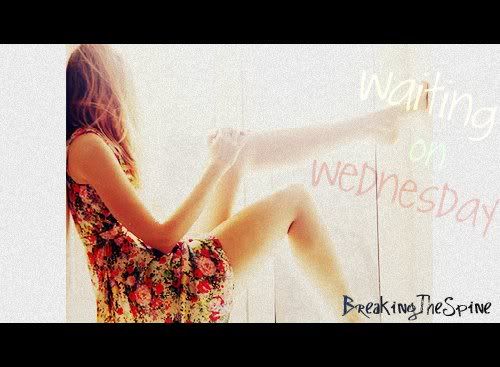 Waiting On Wednesday, which is hosted by Jill at

BreakingtheSpine

! It's basically a Wednesday meme that "spotlights upcoming releases that we're eagerly anticipating". This week, our WoW's are:


Everneath

by

Brodi Ashton
(January 3, 2012 by HarperCollins/ Balzer + Bray)
Last spring, Nikki Beckett vanished, sucked into an underworld known as the Everneath, where immortals Feed on the emotions of despairing humans. Now she's returned- to her old life, her family, her friends- before being banished back to the underworld... this time forever.



She has six months before the Everneath comes to claim her, six months for good-byes she can't find the words for, six months to find redemption, if it exists.

Nikki longs to spend these months reconnecting with her boyfriend, Jack, the one person she loves more than anything. But there's a problem: Cole, the smoldering immortal who first enticed her to the Everneath, has followed Nikki to the mortal world. And he'll do whatever it takes to bring her back- this time as his queen.



As Nikki's time grows short and her relationships begin slipping from her grasp, she's forced to make the hardest decision of her life: find a way to cheat fate and remain on the Surface with Jack or return to the Everneath and become Cole's...


Why this is my WoW:
So many bloggers are getting this for review! Merrr so jealous! It just sounds amazing! It's also a 2012 debut, even better! And doesn't that
cover
just draw you in? Sure, it's a girl in a dress, but it's a girl in a
gorgeous
dress, fading into what looks like smog, or the "Everneath" :) What are you waiting for?
Racquel's WoW
:
Faking Faith
by
Josie Bloss
November 8th 2011 by Flux
After a humiliating "sexting" incident involving a hot and popular senior, seventeen-year-old Dylan has become a social outcast—harassed, ignored, and estranged from her two best friends.

When Dylan discovers the blogs of homeschooled fundamentalist Christian girls, she's fascinated by their old-fashioned conversation themes, like practicing submission to one's future husband. Blogging as Faith, her devout alter ego, Dylan befriends Abigail, the group's queen bee. But growing closer to Abigail (and her intriguing older brother) forces Dylan to choose: keep living a lie or come clean and face the consequences.
Why is this Racquels' WoW?
Wow, have you heard of a plot like this one before?! First I salute the author for touching a real teen (an adult) everyday subject. Sexting, it happens everyday. That phone that just went off by you, 50% chance it was a dirty text message! And the whole getting shunned out and little bit about 'intriguing older brother' is well, INTRIGUING! I think this is going to be realistic fiction at it's best so sign me up for November 8th waiting!