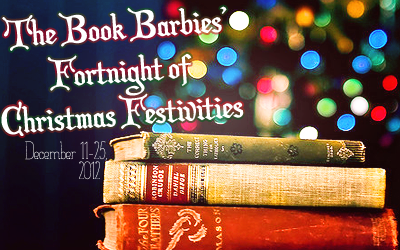 Psst! Click on the banner to go to the Fortnight of Festivities giveaway!
Title:
Ask Her at Christmas
Author:
Christi Barth
Anthology:
Romancing the Holiday
Published:
December 3, 2012 (Carina Press)
Rating:
Lunch Break Read
Format:
Digital ARC from author
Summary: Caitlin McIntyre's heart stops when her best friend drops to one knee and proposes. Kyle Lockhart never once hinted over the years that he has any idea she's in love with him. Not wanting to jeopardize their friendship, she's never let it slip. Good thing, too, since it turns out he's only practicing—he's about to propose to someone else.

A business merger might not be the most romantic reason to propose to a woman he barely knows, but Kyle's determined to win the respect of his dying father who's never seen him as quite good enough. Kyle's always depended on Caitlin's friendship, while trying to ignore the physical response she arouses. So he turns to her when it comes time to craft his proposal, not realizing his decision will affect their relationship, forever.
I was excited to read this ARC because it sounded perfect for a sweet Christmas read. What better setting than the holidays for a friends-to-lovers romance? I enjoyed reading about Caitlin and Kyle. They had been friends since they were children, but Caitlin had wanted more for years. Kyle had been more oblivious about his feelings - as men in these stories are wont to be - but had always fought attraction to Caitlin. Not wanting to ruin their friendship, neither Kyle or Caitlin had said anything to the other.
Because I am the kind of person who can never get too much build-up, my usual complaint about novellas is that there is not enough time for the relationship to develop. However, this story was actually a perfect fit for the length of a novella. To make it longer would be pointlessly dragging things out for no reason. Caitlin and Kyle had been best friends for years, and that was clear as soon as the story started. Their relationship developed at a good pace, and I liked the way it unfolded.
Unfortunately, there was not much characterization beyond the surface. But I liked Caitlin and her perpetual happiness, and there was Kyle, a total nerd who also happened to have movie star looks. Who doesn't love that? Monica, Kyle's would-be fiancée was an obviously boring and horrid woman despite her Marilyn Monroe appearance. She was clearly not going to present any threat to the couple.
This was a nice little Christmas romance. Nothing too serious or dark happened, and there was not much standing in the way of the HEA. It made me giggle several times and had quite a few good lines. If you're looking for a quick, cute friends-to-lovers romance in a Christmas setting - or a variety of potential ways to propose if you live in the Chicago area -
Ask Her at Christmas
is a good choice.
Yeah, he wasn't any good with words. Now, if he could craft an equation that transformed her beauty into the simplicity of numbers, then he'd be eloquent. Except she wouldn't understand it. And he'd win the prize for biggest nerd ever.


---

Believing in love, valuing it, doesn't make me naïve.


---

Nice guys, to be sure, but as geeky as a pocket protector stuffed into a tuxedo on prom night.