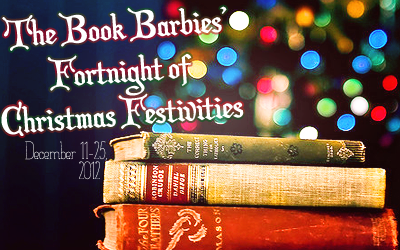 Christmas is Sharon's favorite holiday by far. As this is her first Christmas with a blog, there was no way it was going to pass without a huge bash and giveaway. The Book Barbies' Fortnight of Festivities is a fourteen-day long (December 11-25) celebration during which Christmas-themed reviews, lists, features, and a giveaway will overtake the blog. Excited yet? Well, you should be! I mean, we used the term fortnight in the title. You know it's going to be awesome.
As Lisa Kleypas is a favorite of both the Barbies (as you have probably noticed), she was the logical choice for the penultimate giveaway. This is also a good choice because it will appeal to a wide variety of readers. Even if you don't like reading Christmas-themed books, you very well might still enjoy this one. Christmas is not nearly as heavily featured as the title implies, although it is obviously still there. Overall,
Christmas Eve at Friday Harbor
is a cute and feel-good book that will undoubtedly make you smile.
Christmas Eve at Friday Harbor by Lisa Kleypas (Also known as Christmas with Holly, due to the Hallmark movie that just aired based off of it.)

ONE LITTLE GIRL NEEDS A FAMILY
One rain-slicked night, six-year-old Holly lost the only parent she knew, her beloved mother Victoria. And since that night, she has never again spoken a word.

ONE SINGLE MAN NEEDS A WIFE
The last thing Mark Nolan needs is a six-year-old girl in his life. But he soon realizes that he will do everything he can to make her life whole again. His sister's will gives him the instructions: There's no other choice but you. Just start by loving her. The rest will follow.

SOMETIMES, IT TAKES A LITTLE MAGIC…
Maggie Collins doesn't dare believe in love again, after losing her husband of one year. But she does believe in the magic of imagination. As the owner of a toy shop, she lives what she loves. And when she meets Holly Nolan, she sees a little girl in desperate need of a little magic.

…TO MAKE DREAMS COME TRUE
Three lonely people. Three lives at the crossroads. Three people who are about to discover that Christmas is the time of year when anything is possible, and when wishes have a way of finding the path home…
Even if you don't want to enter in the giveaway, feel free to participate in the festivities. The more, the merrier! If you do want to enter, though, you can do so below. Giveaway is international!
a Rafflecopter giveaway