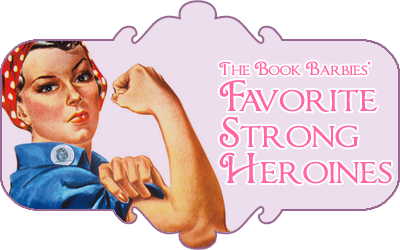 In celebration of International Women's Day on March 8th, we are highlighting a favorite strong heroine every day!
Sharon's pick: Karana from Island of the Blue Dolphins by Scott O'Dell
Island of the Blue Dolphins
is not usually the kind of book we discuss here on The Book Barbies. It is a Middle Grade book with a distinct lack of romance. However, I could not even
begin
to tell you how many times I read this book, as a young child (probably around age 7 or 8) through my young teens.
Island of the Blue Dolphins
is the story of Karana, a Nicoleño Indian girl who, after an incredible tragedy and act of bravery, is left to live on her own on an island. Her only true companion for a long time is a dog, but she survives and works hard to maintain her life on the island.
A a girl who has never been all that fond of dogs, has very little experience with wilderness survival, and abhorred
Robinson Crusoe
beyond any logical sense, by all means, I should not have enjoyed this story. But I did. Many, many times.
Karana survived horrible tragedy, and she worked hard and proved herself capable of things that would cause many adults to balk. When I was younger, I was never interested in Wonder Woman or any superheroes, but I always favored books with strong female leads. Karana was one of my favorites; her strength amazed and inspired me. She had an incredible determination that I could barely fathom. I used to imagine I was Karana, living along on an island, making my own food and shelter. Even though I never faced situations anywhere nearly as dire - in fact, my childhood was rather peaceful and happy, sibling squabbling aside - I always like to think that some of Karana's strength and bravery rubbed off on me from having read about her and empathized with her so many times.
Even though this is technically a Middle Grade book, I would recommend it to readers of all ages, if you haven't read it. In fact, I haven't read it in ages, but writing this post has me very much wanting to pick up my old, tattered copy the next time I am back at home. I included Karana because she was one of my first favorite strong heroines, and she most definitely deserves a place on this list.
Have you read Island of the Blue Dolphins? If so, did you enjoy it? What were some of your favorite childhood reads?