Top Ten Tuesday is hosted by
The Broke and the Bookish
and this week's topic is:
Top Ten Books I Wish I Could Read Again For The First Time
I will say this, and I will say it a million times. I have this book memorized backwards, downwards, side ways and everything between. It's my #1 favorite book and it's shelf resides in my heart so with being said, the only WOW factor is the book's ability to always hold my attention and make me fall in love with it again otherwise I know what's going to happen next, who is going to say what and what's going on..
I was too excited when I picked this up, I could hardly read one sentence without the need to just
devour
it so of course because of that I started reading really fast, not getting what's going on and skimming parts to see what would happen...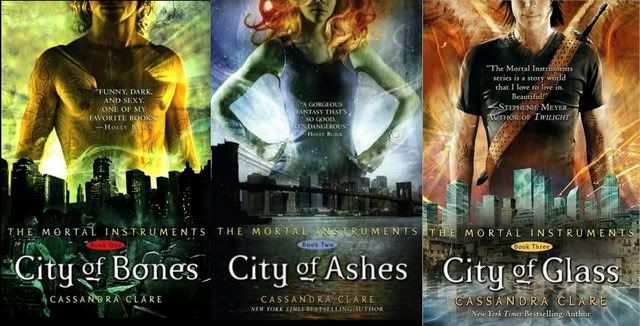 I have a problem, one that makes my fingers tingle, my head throb and a stapler my only help.
I have no patience. No patience AT ALL.
The first thing I do when I read a book? read the last chapter before I even read the summary!
I just always need to know what happens, I cannot be kept in the dark at all which leads me to always ruining books for myself. So when I started this series, I didn't just go read the last chapter first, I Wiki'ed the plot of this and of course half way through the first book, I knew what big gasp/cliff hanger was going to happen at the end and I know how that big gasp is going resolve and how the series (well City of Glass was supposed to be the last book!) end.
The same thing with Vampire Academy:
After I finished Vampire Academy, I whipped out my phone and Googled this *beep*. I totally ruined what was going to happen in book 2 and book 3 so while I could have finished those two books in 4 days I took a week per book because I was dreading what was going to come. Blood Promise not so much because there isn't that big of a gasp in it but Spirit Bound was also ruined... *sigh* I need help!