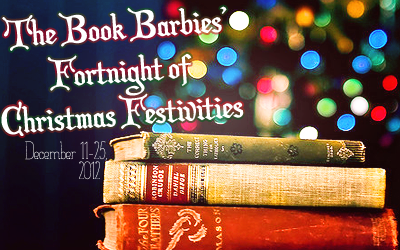 Psst! Click on the banner to go to the Fortnight of Festivities giveaway!
Title:
It Happened One Christmas
Author:
Leslie Kelly
Published:
November 15, 2011 (Harlequin)
Rating:
Lunch Break Read
Format:
Physical copy borrowed from the library
Summary: Six years ago, Ross Mitchell and Lucy Fleming shared a hot holiday weekend in Manhattan, back when he was just a hard-bodied guy in a tool belt and she was an impulsive photography student. Fast-forward a few Decembers: Ross and Lucy meet again, by chance, at his office Christmas party. And when they find themselves alone and snowed in after hours, it's not long before they're making their own body heat—again. Only this time, the sex is better than ever! But is it just another holiday romp between the sheets? Or will Lucy and Ross finally get to keep what they really want this year—each other!
A while back, I was struck by the Christmas impulse and grabbed a bunch of holiday themed Harlequins from the library. This was one of them. It was a fun way to spend a slow afternoon at work! It was a sweet love story that I very much enjoyed reading.
I liked the way the story was presented. Ross and Lucy had a slight history from years before, and their new meeting paralleled their old in many ways. The stories unfolded at just the right pace. The flashback integrated well into the present, and it was nice to compare and contrast the two.
I liked that it was the woman who was the Scrooge figure in the book (because heaven forbid you have a Christmas romance wherein one of the characters was
not
anti-Christmas) with the man who loved it. It made a fun change to read a hero who loved Christmas, because that just makes me smile. Also, Lucy didn't just hate Christmas to hate Christmas; it was because of a tragic accident that had happened years earlier.
As for the interactions between Lucy and Ross, they had some great chemistry from the very beginning. And I will forever and always love the locked/snowed in trope. It is a great chance to work out issues and perhaps steam up some windows (which is obviously going to happen in a Blaze).
Christmas played a great part in the story. It was actually relevant, not just tossed in there for Christmas marketing, which happened in the other "Christmas" Harlequin I read around the same time. The story would not have been the same without it. And what a great story it was! It was a little heartbreaking at times and incredibly sweet. It totally sneaked in there and made me cry during the epilogue. Darn the Christmas sappiness! (Except I totally loved every minute of it.)
If she'd woken up this morning to find her bed had floated up into the sky on a giant helium balloon, she couldn't have been more surprised than she was right now.


---

"I can tell you what it's like," she said. "It's like waking up one day and realizing someone's torn half your heart out of your chest. Your life is no longer about the number of years you've lived, or the ones you have in front of you. It becomes measured by before and after that one moment."