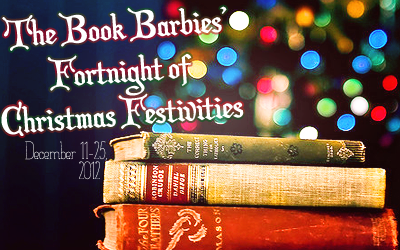 Psst! Click on the banner to go to the Fortnight of Festivities giveaway!
Title:
Kissing Under the Mistletoe
Author:
Marina Adair
Published:
October 16, 2012 (Montlake Romance)
Rating:
Lunch Break Read
Format:
Ebook, purchased from Amazon
Summary: Regan Martin stopped believing in Christmas miracles six years ago when she lost her house, her job, and her impeccable reputation in the wine industry after she fell in love with a man she had no idea was married. Then Regan gets a chance for a fresh start. With her dream job, dream home, and her daughter enrolled in a wonderful new school, she starts wondering if holiday wishes really come true.

But she soon tumbles back down to earth when she learns that her new boss is none other than Gabe DeLuca, the scorned wife's brother. Gabe wants nothing more than home-wrecking Regan Martin out of his life, his sister's world, and his family's business. Mostly, he wants the lush beauty out of his head. Yet his attempts to run her out of town have him thinking twice, especially when he sees that Regan may hold the key to tracking down his sister's stolen start-up capital. Even worse for Gabe, Regan might just be his Christmas wish and hold the key to his heart.
April from
Good Books & Good Wine
mentioned this book on Twitter a week or so ago, and once I read the blurb on Goodreads, I knew I absolutely had to read it. SO MUCH potential for I-want/love-you-even-though-I-really-REALLY-don't-want-to awesomeness, which is basically my favorite trope ever. Add in Christmas, and this book was practically tailor-made for me.
There were quite a few things I enjoyed about this book. For one, I totally fell for Holly, Regan's daughter. She was so adorable with her kitty fascination and her obsessive manners. I really loved the whole dynamic between Regan and Holly. Regan was doing her best to give Holly the best life possible, and their interactions were full of the cutest love possible. The way Gabe fit into this relationship was simply perfect. There are few things more swoon-worthy than a man who is good with kids, and I could not blame Regan at all for her swooning moments after watching Gabe interact with Holly.
The whole cast of secondary characters was diverse and entertaining. There were many of them, from the Mrs. Clauses (a group of older women including Gabe's grandmother) to Regan's new friends in Napa Valley to a reindeer town mascot named Randolph (no, not Rudolph -
Randolph
). Some of the characters were significantly less awesome, and there was one character in particular who most certainly got coal in her stocking come December 25th. But what's a good romance without a little villainous interference, eh?
Unfortunately, given all that, there were still some aspects that fell short for me. The first scene of the book was a little jarring. I enjoy absurd opening scenes, but this one was both absurd
and
awkward, and I just didn't quite understand what was happening and why. It also took a while for me to warm up to Gabe. Although I understood his current behavior for the most part, his previous behavior was a little much for me to forgive until he finally started to realize the wrongness of his actions and feel some contrition.
Although it did not quite live up to its potential,
Kissing Under the Mistletoe
was quite the enjoyable read. I liked the Napa Valley setting; I have not read many romances involving the wine industry. There was great chemistry between Gabe and Regan. Watching Gabe fall in love with Regan and Holly made for many smile-and-sigh moments. All this combined with the heavy Christmas influence makes
Kissing Under the Mistletoe
a great December read, and I definitely suggest reading it while curled up on the couch with a throw blanket and a mug of egg nog/wassail/your holiday beverage of choice.
Because men did not – repeat, did not – fit into her five-year plan. There was Holly, her career, and creating a home. Period. None of those included the penis-carrying members of society.


---

A wise man would answer yes. Last he'd heard, though, the roles of all three wise men were already cast. And he wasn't one of them.


---

She had never really been into arms before, but there was something about his that made her want to wrap them around her and beg him to never let go.