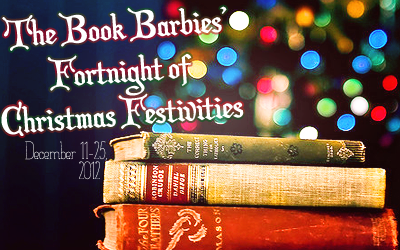 Psst! Click on the banner to go to the Fortnight of Festivities giveaway!
Title:
Under the Mistletoe
Author:
Jill Shalvis
Series:
Lucky Harbor #6.5
Published:
December 4, 2012 (Forever Yours)
Rating:
Lunch Break Read
Format:
Ebook, purchased
Summary: Mia Hutchinson, Tara and Ford's daughter from The Sweetest Thing, has asked her college boyfriend, Nick, to travel to Lucky Harbor for her aunt Maddie's Christmas Eve wedding.

Despondent when Nick refuses her invitation, Mia returns home alone and faces her high school sweetheart Carlos Rodriguez for the first time since refusing his marriage proposal. Only to find that he is happily dating someone else. With love and holiday spirit everywhere, Mia wonders who will kiss her this Christmas under the mistletoe.
I went into this book with totally skewed expectations because the blurb from Goodreads, at least the way I read it, implied a Mia/Carlos romance. Or maybe I just skimmed it, because let's just be honest, it was an auto-buy for me as it involved the words "Jill Shalvis" and "Lucky Harbor," and I was totally excited to read Mia's story. I enjoyed reading about her in
The Sweetest Thing
, and I couldn't wait to see how her life went after the book left off. Regardless, this book is not about Mia and Carlos (which became clear very quickly, so I'm not spoiling anything here); it is about Mia and Nick.
Mia was 17 at the end of
The Sweetest Thing
, but at the start of
Under the Mistletoe
, she was 22. I always love reading about characters in this age group. (And since it was in the New York Times today and all, I should probably stop desperately hoping someone will come up with a label other than "New Adult," and suck it up and start using it.) Because she had graduated college only months before, I could relate a lot to where Mia was in her life, because I am very close to that point myself. It added a nice element to the experience.
Since Mia was going home for Chloe and Sawyer's wedding, the whole original Lucky Harbor crew was there in all their splendid, hilarious, heartwarming glory. There was even a cameo by Lucille, because what would a Lucky Harbor book be without Lucille? I also like that Carlos was included, and her romance with him was not thrown away as irrelevant or "puppy love."
One warning, though. This story puts the
la
in novella. There's a reason it says "A Lucky Harbor
Short Story
" on the cover, rather than
novella
. The blasted page count declares the book is 85 pages long...and then you're reading along and OHHAIJUSTKIDDING, it ends on page 55. What follows is a teaser for the next Lucky Harbor book.
However
, for all its miniature length,
Under the Mistletoe
is far from just a quick bit of holiday fluff. It was this on one level, of course, but there was a lot of depth, too. I love that the romance did not center around a developing romance, because there simply was not time for that. It involved commitment and Mia and Nick both coming to terms with what they wanted out of life before embarking on their HEA. And the way this came about? Oh, be still, my heart. So many feelings!
I was not a huge fan of one of the elements of the end because it felt a little like a cop-out to me, but I won't go into what it was so as to not spoil it. Overall, although I obviously wished for this story to be a little longer, the content was great. Shalvis wrote another winning addition to the Lucky Harbor series, and if you're looking for a quick yuletide read with more depth and heart than you might expect, I would suggest downloading
Under the Mistletoe.
"'Let me in.' 'Come to the door.' You always demand like that? No wonder she isn't listening? Try asking sometime. Not all women will stand for that 50 Shades crap, you know."


---

She wasn't going to cry again. Hell no. She'd save it for really important events, like watching The Notebook after a round of brutal finals.


---

He kissed her as if he could breathe the truth into her lungs.


---

"Don't cry. I'm sorry." He wasn't exactly sure what he was sorry for, but he'd be sorry for breathing if that was the problem.