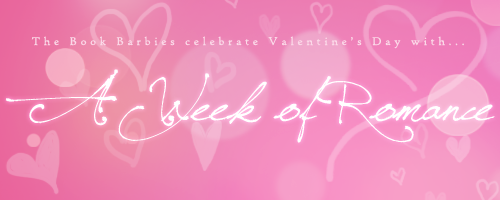 Today for A Week of Romance we're listing our top ten favorite romances (also today's
TTT
. Fits perfectly!)
I'm going to be a good girl and not make this list consist of all Lisa Kleypas books!
1.
Blue-Eyed Devil
by
Lisa Kleypas
: This is my favorite book ever ever ever. It's such a beautiful, moving story that I will reread forever.
"I wanted more of those sweltering kisses. I felt terrible about that. But the warm sunny fragrance of him... he smelled better than any human being I'd ever met. "Okay" I said unsteadily, "forget what I said about not exchanging names. Who are you?"
"For you, honey... I'm trouble."
2.
Perfect Chemistry
by
Simone Elkeles
: My favorite YA!
"You once said you loved me. Do you still?"
My sister is watching this exchange between us. She smiles warmly at me, giving me the strength to tell him the truth. "I never stopped loving you. Even when I tried desperately to forget you. I couldn't."
3.
Confessions from an Arranged Marriage
by
Miranda Neville

: My first historical romance. It has a special place in my heart!
"Let's be friends again."
4.
Vampire Academy
by Richelle Mead series: Rose & Dimitri's relationship is just the best. Ugh. Be still, my heart.
"If I let myself love you, I won't throw myself in front of her. I'll throw myself in front of you."
5.
Smooth Talking Stranger
by
Lisa Kleypas

:
Oh Jack Travis.
"Well, you missed out on some important protocol, Ella. You can't stand between a Texan and his power tools. We like them. Big ones that drain the national grid. We also like truck-stop breakfasts, large moving objects, Monday night football, and the missionary position. We don't drink light beer, drive Smart cars, or admit to knowing the names of more than about five or six colors. And we don't wax our chests, ever."
6.
Devil in Winter
by
Lisa Kleypas
(last LK book, I promise!): This my favorite LK historical. *sigh* Sebastian St. Vincent ♥
"My love is upon you."
7.
Just Listen
by
Sarah Dessen
: most people prefer Macy & Wes *cough Sharon cough* and while I love them, I think Annabel and Owen's relationship wins.
"Told you. Everything sounds better in the car wash."
8.
There You'll Find Me
by
Jenny B. Jones
: This is one of the most beautiful books ever and Finely and Beckett's relationship is just so special.
"We don't even like each other."


"I pretty much can't stand you."
And then his lips crushed to mine.
9.
Going Too Far
by
Jennifer Echols
: gah. This book. I literally have no other words. It's small and spans over a week only but that all it took for it to earn a special place in my heart.
"And the rest is happily ever After."
1.
Heart of the West
by
Penelope Williamson
:
One of the absolute swooniest romances I've ever read. It has a sexy hero, forbidden love, and super slow-burn romance. SO MUCH LOVE.
"Being in love ought to feel as if you held that bolt of lightning in your hands."
2.
Outlander
by
Diana Gabaldon
: Jamie and Claire are just so wonderful. This romance is huge and epic and worth every page.
"No wonder he was so good with horses, I thought blearily, feeling his fingers rubbing gently behind my ears, listening to the soothing, incomprehensible speech. If I were a horse, I'd let him ride me anywhere."
3.
Just One of the Guys

by

Kristan Higgins

: This ending of this book literally made me burst into happy tears that lasted a good 5+ minutes (and this was several years back when I rarely cried...unlike now. I've cried at an iPhone commercial. I'm officially pathetic, I know). I was just so invested in the couple and their HEA. So beautiful!
"Because he wasn't you."
4.
When He Was Wicked
by
Julia Quinn

: My favorite Bridgerton book. I am a sucker for a good angsty, heart-wrenching romance, and this definitely fits those qualifications.
"In every life there is a turning point. A moment so tremendous, so sharp and clear that one feels as if one's been hit in the chest, all the breath knocked out, and one knows, absolutely knows without the merest hint of a shadow of a doubt that one's life will never be the same."
5.
Head Over Heels
by
Jill Shalvis
: My favorite of the Lucky Harbor books, which is saying something. Chloe and Sawyer were just perfect, the absolute epitome of hate-to-love.
"But he didn't reach for his cuffs or cite her Miranda rights, both good signs in her book."
6.
Practice Makes Perfect
by
Julie James
: I love Julie James, and this was my first of her books. It will always hold a special place in my heart. Plus, the witty banter is out the this world!
"What? I took it because of the girls in the class. Anyway, I see a bit of a P and P dynamic going on between you and Payton."
J.D. didn't think he wanted to know. Really. But he asked anyway. "P and P?"
Tyler shot him a look, appalled. "Uh, hello--Pride and Prejudice?" His tone said only a cretin wouldn't know this.
"Oh right, P and P," J.D. said. "You know, Tyler, you might want to pick up your balls--I think they just fell right off when you said that."
7.
The Summer I Turned Pretty

trilogy by

Jenny Han

: I absolutely adore this trilogy, and the romance is incredible. Basically, I felt ALL THE FEELS, and I need to read them again.
"Sometimes it's like people are a million times more beautiful to you in your mind. It's like you see them through a special lens - but maybe if it's how you see them, that's how they really are. It's like the whole tree falling in the forest thing."
8.
The Truth About Forever

by

Sarah Dessen

: WES BAKER. And you know. The entire book. It's only my favorite YA ever. I read it at least once a year. It makes my heart happy.
"I don't know. Just because someone's pretty doesn't mean she's decent. Or vice versa. I'm not into appearances. I like flaws, I think they make things interesting."
9.
Pride and Prejudice
by
Jane Austen
: I had to do it. I have an incredible love of this story and of Elizabeth and Mr. Darcy, in any form it may come: book, movie, miniseries, play. In fact, my car is named Fitzwilliam, after Mr. Darcy. Yes, I am aware of how pathetic that is. And I'm okay with this.
"In vain have I struggled. It will not do. My feelings will not be repressed. You must allow me to tell you how ardently I admire and love you."
What I Did For a Duke

by

Julie Anne Long

: Both of us agree that
this is one of the best historical romances we've read in a long time and that it has the the most perfect last chapter ever. If you're a romance fan, this is a MUST read. Prepare to laugh, swoon, tear up, swoon, smile, swoon, swoon, and finish this book with a BIG grin on your face.
It got Sharon hooked on Julie Anne Long and her Pennyroyal Green series, which is fantastic.
"A proper kiss, Miss Eversea, should turn you inside out. It should . . . touch places in you that you didn't know existed, set them ablaze, until your entire being is hungry and wild...It should slice right down through you like a cutlass with a pleasure so devastating it's very nearly pain … It should make you want to do things you'd never dreamed you'd want to do, and in that moment all of those things will make perfect sense. And it should herald, or at least promise, the most intense physical pleasure you've ever known, regardless of whether that promise is ever, ever fulfilled. It should, in fact . . . " he paused for effect " . . . haunt you for the rest of your life."
As for the giveaway, a beautiful copy of the Splinter edition of Pride & Prejudice!
a Rafflecopter giveaway
So, are any of these books your favorite too?
And if you missed the beginning of this event: