Racquel:
01.
Arranged marriage.
I was going to say, don't judge me, but HA. I don't care so go ahead but I do love arranged marriages in fiction. In historical romance pretty much.
Favorites:
Devil in Winter
by
Lisa Kleypas
&
Confessions from an Arranged Marriage
by
Miranda Neville
02.
Vampires.
I, Racquel, just said that, YES. I love vampires. I've always loved vampires. I will always love vampires and NO. Vampire books are not dead.
Favorites:
Vampire Academy series
by
Richelle Mead
and I have to mention him: ERIC NORTHMAN. He is the greatest vampire around and if everyone disagrees?
03.
Marriage-in-trouble.
Not a lot of romance readers like this one because it ruins the romance fantasy or whatever, I don't really understand it, but maybe because I'm not married but OH WELL. I like seeing couples fall back in love! Makes the romance even sweeter!
Favorites:
Not Quite a Husband
and
Ravishing the Heires

s
by Sherry Thomas
04. Alternating 1st person POV between girl and guy main characters (okay, 10 key words). I just love this. It makes the romance a whole lot better and the book more interesting since we're in two different heads. It doesn't count if it's 3rd person though! Must be 1st person.
Favorites:
Perfect Chemistry
by
Simone Elkeles
and
Two-Way Street
by
Lauren Barnholdt
05.
LISA KLEYPAS.
Automatically pre-ordered. Gettttttt it.
Favorites:
god, I list my Lisa Kleypas favorites EVERY FREAKIN' WEEK. Just pick one. It's a favorite. Trust me.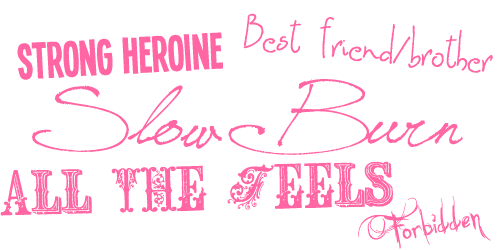 Sharon:
01.
Slow burn
. Because hi, have you met me? If I see this phrase in a review of a book, I am guaranteed to pick it up unless there is something seriously offputting in the cover blurb. Basically, it's my favorite thing to read ever. Example:
A Notorious Countess Confesses
by Julie Anne Long
02. Any arrangement of the words
"best," "friend," and "brother"
(Best friend's brother, brother's best friend, YES TO ALL) Example:
Just Like Heaven
by Julia Quinn
03.
Forbidden
. Judge me all you want, but I freaking LOVE the forbidden aspect of relationships. Whether it's because it's a friend's ex, the heroine is his ward, he's a special agent in charge of her, WHATEVER. Regardless of the plot, if there are reasons for there to be angsting and longing and I-so-shouldn't-want-you-but-I-do dynamic, I am SO there (and the key to making this trope work is to make the ending caving/result good enough to live up to the build.) Example:
Water for Elephants
by Sara Gruen
04.
Strong Heroine.
There are few things I enjoy more than a good book with a strong female lead. Example:
Graceling
by Kristin Cashore
05.
ALL THE FEELS
. Yes, this term is making its way quickly into the "overused" category. But when I see this in a review, it always makes me take a second look. I love those books you don't just read; you
experience
. You feel everything through them. Example:
Unravel Me
by Tahereh Mafi