Hosted by Ginger at
Greads!
This week's TGIF:
Book Blogs That Make You Smile: Pick 5 book blogs you visit often & think others should, too.
OH my, this has GOT to be hard... there are SO many blogs out there that I LOVE. I'm going to go in no particular order.. here it goes.
Jennifer's Top 5:
1. Harmony's Radiant Reads
This girl... where do I begin. Her reviews are amazing, first of all. Her blog is just lovely, and has a very

vibrant

feel to it that just makes you want to read everything about it. The reviews, memes, even the about me & and contact. If you haven't checked out her vlogs, DO SO. Seeing her in videos just make it all the more connectable to Harmony, her blog and

Youtube Channel

definitely make my day! :)
2. Ya-Aholic
Haley who runs Ya-Aholic is literally the

sweetest

person ever. Not only that, but she is so honest in her reviews! Her blog is so eye-catching and attention grabbing, and I just overall love it. Every time I check through my email, I'm always looking for Ya-Aholic's new blog posts. :) She also vlogs now! GO check her out. :)
3. Words Like Silver
I LOVE THIS BLOG. Grace, who runs wordslikesilver, is so thoughtful, ESPECIALLY her reviews! WOW that girl can write. She inspires me to keep blogging, and I admire how much she loves blogging, reading, AND writing :) I love her blog!
4. The Story Siren
Okay, I don't know why I included Kristi's blog on here.. because everyone already knows about it.. but.. I CAN'T HELP IT. I loveloveLOVE her blog. She basically inspired everyone (that I know of) to start blogging. She is the blogging role model.. seriously. She's hilarious, and her meme In My Mailbox is probably the most well-known meme in the blogging world. Her reviews are informational and short! :) Awesome, awesome blog!
5. Hobbitsies
THIS BLOG IS

PINK

AND GREY <3 My two favorite colors. But that's not the point. Her reviews are short and sweet, and honest, and I kind of go after what's good and what's not on her opinions. :) The blog just has a very neat and clean feel to it, which I love. Keep up the good work, Tara!
Those are my 5 favorite blogs that I check daily! (Again, in no particular order)! What are yours?
Racquel's Top 5:
Anxirium
run by the lovely Mary.
I see Mary or Anxirium I think of lovely right away, for real. Mary is SOOOO nice if we were all as nice as here world peace would exists. She actually TALKS and discuss books with you, yes *GASP!* she just doesn't post reviews and calls it a day, she actually discusses them with you which is HELLO, the entire point of this book blogging world. To share our love for book. I don't care if you liked a book or not, If I want to read something I will! I follow people's blogs though to see and compare what hey liked and what they didn't like and talk about what we liked plus disliked about book, get all the raving energy out you know? Mary is my book buddy.
A Thousand Little Pages
run by the genius Cinnamon.
She's funny, she's my age so we can bitch about school 24/7 and like Mary, she actually talks books. I love this girl, fo' real.
Reading After Midnight
run by the nocturnal lover Ari.
Ari is so sweet + her reviews make me happy. I take her reviews to heart because our book tastes are so similar and they're real thoughtful. Instead of spending 3/4 of her review summarizing the book she actually *double GASP!* tells you how SHE felt about the book. Yeah, we need to lean a thing or two from Ari.
Mocha Latte Reads
run by the cupcake obsessed Mocha.
Do you see that gorgeous purple button? Do you not feel the cupcake addiction Mocha has? have you not already fallen in love with her and her blog already? If you answered no, WEIRDO.
The
Midnight Garden
run by Peter's Pan wife Wendy!
Wendy and me get into it hardcore. Total no regrets book talk. They make my day. She understand the point of blogging.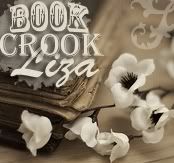 6.
Book Crook Liza
run by Dimka's fellow Russian speaking lover Liza.
we're supposed to mention 5 bloggers only but tomato, tomatho. It's outrageous if I don't put Liza on here. First of all, she loves airport and besides me I think we're the only people on earth who do but really nothing makes me happier then airports, airplanes and traveling. She been to the middle east so she understand my complaining about the heat. Her loveliness aside, she has a great thoughtful blog.