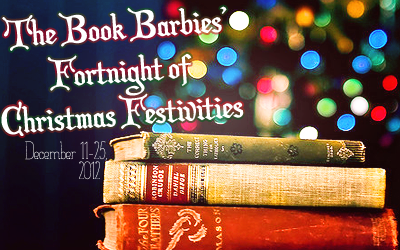 Psst! Click on the banner to go to the Fortnight of Festivities giveaway!
Title:
Holiday Sparks
Author:
Shannon Stacey
Published:
December 6, 2010 (Carina Press)
Rating:
Staying in Tonight
Format:
Digital eBook, purchased
Summary: House-sitting for her parents seemed like a good idea, until the microwave blew up and the lights went out. Now Chloe Burke thinks upgrading the electrical system of her childhood home while they are away would make the perfect Christmas gift. Fortunately, there's an electrician in town who can get the job done by the holidays.

Scott Quinn has wanted to get his hands on the Burkes' wiring for almost as long as he's wanted to get his hands on their daughter. Chloe didn't notice Scott back in high school, but she's noticing him now, and soon they're indulging in a little festive fun: no strings, no expectations. But Chloe and Scott discover they enjoy each other's company just as much out of bed. Could their holiday fling turn out to be the real thing?
This is my fourth Shannon Stacey, and I have yet to be disappointed by her. This was a totally cute Christmas novella! I love that her novellas I've read are a little longer than most others. She writes them well, making it feel like a complete story rather than a snippet of a whole.
In this particular story, we have Chloe, a web designer, and Scott, an electrician, formerly that gawky guy with glasses from Chloe's high school who has always wanted her. Their one interaction from high school we actually learn about was so incredibly sweet, although simple. All grown up, their chemistry was fantastic! It almost had me wishing for electrical problems so I could call up my local electrician and cross my fingers that he looked like Scott.
I always love the setting of Christmas in a small New England town. The two just go hand-in-hand so perfectly. In
Holiday Sparks
were scenes involving snow balls, snowmobiling, and overlooking the picturesque town. And, of course, the town gossip - what small town would be complete without it?
Stacey seems to love the just-a-fling-oh-wait-I-want-more storyline, but she excels at it. The stories never seem repetitive, because each has its own unique characters and facets that make the story special. This was the case in
Holiday Sparks
. While the basic plot was nothing new, I liked all the different touches. The "electrician" aspect allowed the whole being alone all day, every day thing, which
does
make a rather convenient romance novel setting. I'm surprised it's not more popular! But I digress.
Holiday Sparks
was a totally adorable Christmas read, and I enjoyed every minute of it.
Hugging that man's ass was what jeans had been created for.


---

Scott belonged here, in a place where everybody not only knew your name, but knew what you did in the second grade to get you called into the principal's office.